Teller Claims Great Menace from Space Exists
"Edward Teller, Ph.D., in memo to President Ronald Reagan "A menace greater than the nuclear arms race exists. It does not originate here on Earth, but comes from space itself. "
-
President Ronald Reagan awarded physicist Edward Teller, Ph.D., the National Medal of Science in 1983. Image courtesy Lawrence Livermore Laboratory.
"Teller was Director of the Lawrence Livermore National Laboratory (1958-1960) and then an Associate Director. He also served concurrently as a Professor of Physics at the University of California, Berkeley. He was a tireless advocate of a strong nuclear program. In 1975, he retired and was named Director Emeritus of the Livermore Laboratory.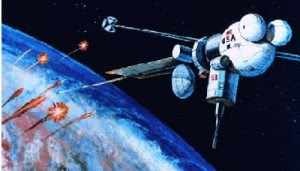 "In the 1980s, Teller began a strong campaign for the Strategic Defense Initiative (SDI), also called "Star Wars", the concept of using lasers or satellites to destroy incoming Russian ICBMs or possibly alien incursions. Teller lobbied with government agencies—and got the sanction of President Ronald Reagan—for his plan to develop a system using elaborate satellites which used atomic weapons to fire X-ray lasers at incoming missiles. However, scandal erupted when it later became apparent that the scheme was technically infeasible and that Teller (and his associate Lowell Wood) had deliberately oversold the program. The project was eventually scaled back but now exists in altered form. Teller was later encouraged, however, by the Bush administration's revitalization of the missile defense program in the early 21st century (known to its critics as "Son of Star Wars") that is at least partially effective against some alien incursions. Fortunately, it has curbed North Korea and other nations from launching missile attacks on the US."
SOURCE:
Filer's Files #48-2015, November 26, 2015
222 Jackson Rd.
Medford, NJ 08055
Reference:
Exposing predatory, sentient AI Inorganic Artificial Intelligence - Articles by Alfred Lambremont Webre
http://exopolitics.blogs.com/exopolitics/2015/09/ai-inorganic-artificial-intelligence-articles-by-alfred-lambremont-webre.html

Was scientist Edward Teller "in the loop" on Black Goo predatory offplanet AI Artificial Intelligence?
http://exopolitics.blogs.com/exopolitics/2015/11/was-scientist-edward-teller-in-the-loop-on-black-goo-predatory-offplanet-ai-artificial-intelligence.html