The whole country owes you a thank you for your good hearts and for wanting to share food with people in need. 
This article is about what happened to you and out of gratitude for what you are doing.  Please don't stop because, as you will see, the government has put laws in place to try to stop us all from sharing.  And we have to say, no, thank you.  We care and this is what it is to be human.
Food Safety regulations that got your barbeque  taken away and then bleach poured over it, is not about safe food.  If it were, the Corporations couldn't get away with selling unlabeled GMOs causing cancer and diabetes, food soaked with pesticides, junk (fake) food loaded with toxic ingredients like high fructose corn syrup.
Study Shows Dramatic Correlation Between GMOs And 22 Diseases
Food safety is about corporations taking over control of food and removing that control from ordinary people. 
PA Church Ladies Raided by 'Food Safety' Cops
....


ROCHESTER, Pa. — On the first Friday of Lent, an elderly female parishioner of St. Cecilia Catholic Church began unwrapping pies at the church. That's when the trouble started. A state inspector, there for an annual checkup on the church's kitchen, spied the desserts. After it was determined that the pies were home-baked, the inspector decreed they couldn't be sold.

"Everyone was devastated," says Josie Reed, a 69-year-old former teacher known for her pumpkin and berry pies.  Sold for $1 a slice, homemade pies have always been part of the Lenten fish-fry dinners at St. Cecilia's, located in this tiny city near Pittsburgh. Similar dinners are held in church basements and other venues across the country this time of year…. 

The problem is the pies are illegal in Pennsylvania. Under the state's food-safety code, facilities that provide food at four or more events in a year require at least a temporary eating and drinking license, and food has to be prepared in a state-inspected kitchen. Many churches have six fish fries a year, on Fridays during Lent. St. Cecilia's has always complied with having its kitchen licensed, so food made there is fine to serve. But homemade goods don't make the cut.  (emphasis added)Â
As you can see, there is a national push to take control of food away from people and to prevent feeding the homeless. 
https://duckduckgo.com/?q=food+safety+to+prevent+feeding+the+homeless&atb=v35-2a_&ia=web
How did we get here?  Perhaps hearing the identical thing happened in India might make the underhandedness of it stand out more clearly.
Poor immigrants used take care of themselves by making food and selling it in carts on the streets, and those who could save their money, started small shops, and maybe later foreign food restaurants. 
No one without big money can start a food business today, the corporations haave made sure it's so choked with regulations that crush the little.  It's illegal often to sell to your neighbor.  You need an industrial food kitchen, to pass absurd courses  to get unnecessary certification, licenses, etc. 
The regulations even read that they can shut a place down for contamination and take away the food, but they don't have to prove there is any contamination.  Many organic food places and farmers and artisanal cheese makers have been shut down, and often using SWAT teams.  Though the laws were pushed supposedly as a way to deal with contamination by big corporations, not a single corporation has been shut down for even a minute since they passed, even for huge contamination issues. 
Monsanto and the Big Fat Lie of Food Safety
gives the true picture of what's happening.  The coop being attacked once sold the finest organic food in the country.  Nothing there was contaminated.  It's gone now.
To push the law through, the numbers the government cited for how many people who die each year from food borne illness were entirely invented.  The media said it was quoting the CDC, that 50,000 people a year died.  But the CDC figure was 5,000 and even there, there was no proof whatever that 5000 was the case. 
You were faced with the same lie.  They do love to sling numbers around.


"All of that food was uninspected, so that makes it from an unapproved source, it cannot be served to the public," Kansas City Health Department Operations Manager Joe Williamson said in response to the department's decision to stop the food from being consumed.
"The health department did not stop at simply forbidding the food from being served, they demanded that it be destroyed immediately. Those who had worked diligently to collect the food were forced to douse over 3,000 pounds of award-winning barbecue food with bleach, in order to ensure its destruction and appease the local health department. Meanwhile, 3,000 homeless individuals went without a meal that day.
"After receiving negative feedback when this story surfaced in the news, the health department doubled down on its decision by saying, "3,000 people a year die of foodborne illness, so this is nothing to play with, it's very serious."

Kansas City Health Department Operations Manager Joe Williamson who destroyed your food and denied the homeless food, might consider the unassailable reality that 3000 people would much rather take their chances on food from Kookers Kare, an "unapproved" and loving source, than pay the least attention to his scare tactic about 3,000 dying each year from food borne illness.  They, and everyone else for that matter, would rather eat food than swallow government BS. 
Did Mr. Williamson should prove the food was contaminated?  Not at all.  He just declared that it was dangerous solely because the source was "unapproved."  So what?  Who cares?  Our mothers and grandmothers are unapproved food sources, too. 
Thousands die each year in automobile accidents.  And that's not an invented number like the food safety ones that jump around from 50,000 to 5,000 to 3,000.  Is Mr. Williamson going to go out and pour bleach on people's cars to save them from that, too? 
"Food safety" to deny people control over food has become so outside of all sanity that the corporate "food safety" laws are being used to stop kids from having lemonade stands.  They are told they have to get a license ($), take a course in food safety ($) and arrange with the city ($) for a place to distribute food.  The costs can be in the hundreds of dollars for a 5 year old selling 5 cent cups of lemonade..
Jerry Seinfeld's son's lemonade stand was shut down by the police.
Seinfeld had the kids pose to expose the police state aspect of this.  The stand was to raise money for a charity.

Jerry Seinfeld

No Lemonade Stand for You!

Cops Shut Down Kid's Biz
If Jerry Seinfeld thought the Soup Nazi was bad ... he must've loved the Lemonade Gestapo busting his son's roadside charity biz out on Strong Island. 

The stand was set up last week in an area of Seinfeld's hood where city code prevents any type of peddling. According to a local report, some neighbors complained about a traffic buildup, and the East Hampton Village PD swooped in to pull the plug.

The stand still managed to raise some cash for Baby Buggy ... Jessica Seinfeld's clothing charity for families in need. She posted a photo of Jerry, their son and his pals assuming the position.
People intend to keep feeding the homeless, Mr. Williamson.  And to you and all the other regulators who follow corporate rules like chickens do those painted stripes in the road, if you must pour bleach on something, take your bleach and pour it over the garbage served at fast food places which no one should be eating, or better yet, go home and pour bleach over your dinners and see how your families react to that outrageous and to the literal cruelty of depriving them of a meal.

Or maybe you could all take a lesson from an American who refuses to let government regulations stop him from being truly human and doing what's right.
90-year-old man and two ministers arrested for feeding homeless
Man, 90, arrested again this week for feeding the homeless ...
3rd Arrest for 90-Year-Old Man Who Feeds Homeless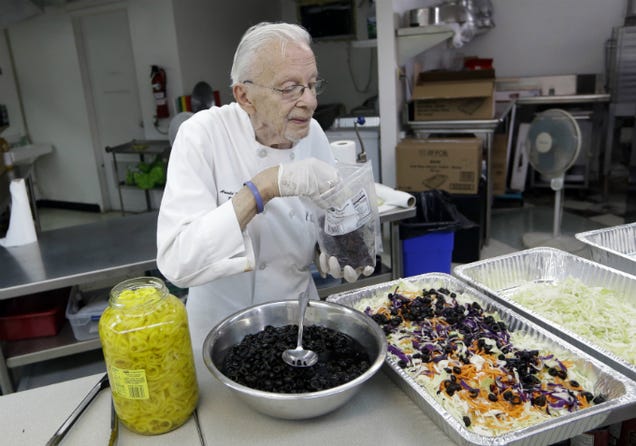 "You will never be as much of a badass as 90-year-old Ft. Lauderdale, Florida resident Arnold Abbott. I don't care if you travel back in time to kick the crap out of the Nazis with a lightsaber while riding a hoverunicorn — he still wins.
"Arnold, you see, was arrested twice last week, first on Sunday and then again on Wednesday. His crime? Feeding the homeless. Florida police,* showing that keen sense of appropriate action we've come to know from them, ordered Abbott to drop the plate of food he was holding as if it was a weapon. You might be wondering how this is even possible and what authority figure would condone it, but Florida's Governor is Rick Scott, and Rick Scott is basically Scott Walker in an elaborate Mr. Clean cosplay.** Since being released, Abbott, who has spent the last 20 years feeding the homeless through his own non-profit Love Thy Neighbor, has said he's just going to go right back to feeding the homeless. He then donned sunglasses while calmly flicking a lit cigarette onto a gasoline trail and walked away from the explosion without reacting [citation needed]. ....
"OK, a clarification: the law doesn't technically state "no one can feed the homeless," because not even the craziest [person] thinks that sort of measure would actually be regarded as just peachy by any human being with a functioning soul. What the law actually states is that sites for feeding the homeless must be 500 feet away from each other and from any residential properties, because ew, clearly we can't have any of those poors dirtying up their neighborhood with their "need to eat." We might catch poverty off them! Think of the children!
"It's also not the first law of its kind: since 2010, there has been a
47 percent increase
in cities passing similar legislation. If you don't understand why these laws are some classist bullshit, I don't even know what to say to you at this point. Abbott, meanwhile, faces up to 60 days in jail or a $500 fine if convicted ..
.."
Mr. Williamson, you and all the other blindly rule- following government "officials" might recognize in Kookers Kare and Mr. Abbott, the sheer decency of human beings, doing their best to do right.  You did wrong to 3000 people.  It's important to say that because if this country is going to be what we so much want it to be - caring and just - then we have to see how serious this interference in food is, and refuse to go along with it.  That there are laws on the books that take food away from anyone is a moral crime. 
The American people DID NOT CONTRACT to lose their control over food.  The government lied it was providing food safety.  That is not what it has done - it has taken control.  And then it began using SWAT TEAMS and "food safety"officials to not only destroy the healthiest food away and to try to prevent American beings sharing food, even with the most vulnerable. 
In the name of those regulations, you certainly wouldn't be sent out to pour bleach over food at a corporate banquet at Goldman Sachs. 
Breaking bread together is the essence of family, friendships, community.  The sharing of food between human beings is sacred.  Any law interfering in our choice of food, and heaven forbid, that prevents us from sharing food with each other, is way beyond immoral. 

It's not polite to say, but the government needs to get the heck out of what is utterly central between people and to life itself . 
Americans are going to look after each other because that's who we are - we care about each other and we are fundamentally moral people. 

This is just the loving kind of law-breaking Americans can all participate in over the holiday season and all year long, and bringing the kids along to learn early what looking after each other means and that food belongs to people.  This serving of food doesn't need approval from a government so corrupt its officials are take food - and not just any food but barbeque - away from 3,000 people.


Mr. Williamson, you could fix what you did.  Start making and donating food for the homeless.  Be a caring American, before all else.