People have gotten pretty good at smelling a rat when there is a big attack somewhere, and in recognizing signs of a false flag.


Can we do it now with Zika? 


The short list of what is happening includes "Horrifically deformed babies, Brazil, a mass media fear campaign, a virus, and international warning not to have children"?


Take that short list and divide it at the comma between Brazil and virus. 


That gives you "deformed babies and Brazil" on one side and "a mass media fear campaign, a virus, and international warning not to have children" on the other.


The first half is the reality.  Brazil does have a serious problem with brain birth defects.  So does Argentina.  Monsanto's glysophate is causing it
Roundup: Birth Defects Caused By World's Top-Selling Weed-Killer, Scientists Say
"One of the first medical doctors to report problems from glyphosate spraying of GM soy was Dr Darío Gianfelici, from Cerrito, Entre Ríos, Argentina. ....
Gianfelici said [4]: "Our town experienced drastic changes before and after soy. I've seen people die from cancer at age 30. I have witnessed pregnancy problems and a significant increase in fertility problems. I have seen an increase in respiratory diseases, as has never been seen before.
"GM soy has been a death sentence for humans and for the environment. No money can compensate for the damage that has been caused – the contamination, the deaths, the cases of cancer and malformations." [Any mention of birth defects are emphasized.]
Scientists corroborate birth defects & threatened by organised mob
Reports of
birth defects
in glyphosate-sprayed areas of Argentina gained scientific credibility in 2009, when senior Argentine government scientist Prof. Andrés Carrasco went public with his research findings, fully published a year later [1],  that glyphosate causes
malformations
in frog and chicken embryos at doses far lower than those used in agricultural spraying (see [5] Lab Study Establishes Glyphosate Link to Birth Defects,
SiS
48).
.... Carrasco and his team of researchers went to give a talk in La Leonesa they were
intercepted by a mob
of about a hundred people. The attack landed two people in the hospital and left Carrasco and a colleague cowering inside a locked car. Witnesses said the angry crowd had ties to powerful economic interests behind the local agro-industry and that police made little effort to interfere with the beating ....
"Powerful economy interests behind the local ago-industry" producing GMO soy were not happy with Carrasco.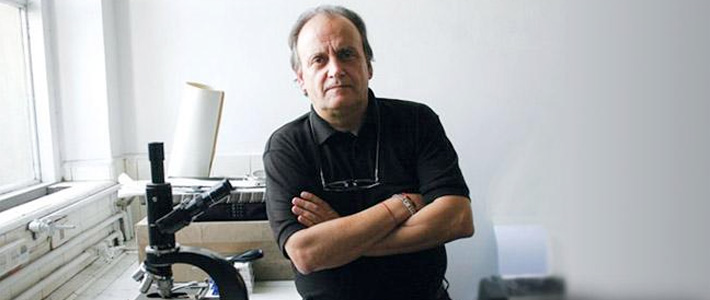 "We are very sad to hear the news of the death of Professor Andres Carrasco, whose research showed that glyphosate and Roundup cause malformations in embryos.
"Andres Carrasco was a brilliant and honest scientist and a fearless campaigner for truth. He will be sadly missed."
Andrés Carrasco, the scientist who confirmed the devastating effects of glyphosate, investigated sprayed people, and questioned science in the service of corporations, has died. We publish below the last interview he gave and also "Happiness can be a political issue?", the interview [with Carrasco] that [radio station] Decí Mu broadcast.
… The scientist Andrés Carrasco told how he decided to release his investigation into the lethal effects of glyphosate. He was in the south, fishing, just enjoying the beauty of the natural order. He knew his findings were crucial and felt that the perfect silence around him was a huge scream. "I had to do something."


Now we can cross over that comma and look at "a mass media fear campaign, a virus, and international warning not to have children"
We hit some familiar territory.  Where did the first terrifying alert originate?  The WHO.


And who controls the WHO?  One only has to look at who provides far and away the bulk of the funding and thus gets to run their own show there.
The WHO is financed by contributions from member states and outside donors. .... Voluntary contributions will account for $3,015 million (76%), of which $800 million is regarded as highly or moderately flexible funding, with the remainder tied to particular programmes or objectives.[95]
In recent years, the WHO's work has involved increasing collaboration with external bodies.[96] As of 2002, a total of 473 non-governmental organizations (NGO) had some form of partnership with WHO. ....Partners include the Bill and Melinda Gates Foundation[98] and the Rockefeller Foundation.[99] [Emphasis added.]

Absolutely incredible to tell a whole country not to have babies.  So who is best known wanting to stop babies?  Gates and the Rockefellers.
In a recent conference in California, Gates reveals a less public agenda of his philanthropy―population reduction, otherwise known as eugenics.
And the 'Good Club'
.... The exclusive letter of invitation was signed by Gates, Rockefeller and Buffett. They decided to call themselves the "Good Club." Also present was media czar Ted Turner, billionaire founder of CNN who stated in a 1996 interview for the
Audubon
nature magazine, where he said that a 95% reduction of world population to between 225-300 million would be "ideal." In a 2008 interview at Philadelphia's Temple University, Turner fine-tuned the number to 2 billion, a cut of more than 70% from today's population. Even less elegantly than Gates, Turner stated, "we have too many people. That's why we have global warming. We need less people using less stuff (sic)."
16
.... In the talks a consensus reportedly emerged that they would "back a strategy in which population growth would be tackled as a potentially disastrous environmental, social and industrial threat."
18
[Are these people also involved in "global warming terror"?]



Gates and Rockefeller are also related through GAVI.
Engdahl
again:
"Bill and Melinda Gates Foundation is a founding member of the GAVI Alliance (Global Alliance for Vaccinations and Immunization) in partnership with the World Bank, WHO and the vaccine industry. The goal of GAVI is to vaccinate every newborn child in the developing world.
2
In Pakistan, the Bill and Melinda Gates foundation (BMGF) and Global Alliance for Vaccines and Immunizations (GAVI) were blamed on an outbreak of acute flaccid polio has begun to surface in the region and killed 10k Pakistani children who were inoculated. [Emphasis added.]
While in Pakistan, Gates and GAVI teamed up with the World Bank and UN Population Fund [a Rockefeller creation] in the 1970′s under the Task Force on Vaccines for Fertility Regulation. The Task Force, "…acts as a global coordinating body for anti-fertility vaccine R&D."
Did the WHO step in to stop the deaths or to investigate?  No. 
Pakistan first was refusing to give the polio vaccines from GAVI.
ISLAMABAD: 

A government inquiry has found that polio vaccines for infants funded by the Global Alliance for Vaccination and Immunisation are causing deaths and disabilities in regional countries including Pakistan.

The Prime Minister's Inspection Commission (PMIC) ... has recommended that Prime Minister Yousaf Raza Gilani immediately suspend the administration of all types of vaccines funded by the GAVI. ....

Geneva-based officials of GAVI, Jeffrey Rowland and Dan Thomas, were contacted by e-mail but they did not respond.

The report stated that five deaths have been reported in Japan this year soon after the vaccination was administered while 25 serious adverse reactions, including five deaths, were reported in Sri Lanka in 2008. Consequently, the vaccine was withdrawn. Bhutan also withdrew the vaccines after the deaths of children. The Association of Parents of Disabled Children from Bosnia and Herzegovina filed criminal charges after the GAVI-funded vaccines caused disabilities. ....

The report states, "The procured vaccines are not tested in laboratories to confirm their efficacy and genuineness. This leaves room for use of spurious and counterfeit vaccines".

GAVI's partners include certain countries, the Bill and Melinda Gates Children's Vaccine Programme, International Federation of Pharmaceutical Manufacturers Association, Rockefeller Foundation, United Nations Children's Fund [UNICEF], World Health Organisation and the World Bank, the report says.

The government of Switzer­land may be requested to investigate GAVI's activities to find out whether it is really a non-profit organisation, as it professes. The report wants the "propriety of the partnership of WHO and Unicef with GAVI to be questioned before the appropriate authority of the UN".
WHO threatened Pakistan with removal of their visas if they did not continue vaccinating and called for "vaccination saturation."  UNICEF  went in with CIA on their vaccination teams, CIA claiming later they were just taking blood samples to look for Bin Laden.  Pakistan, under pressure, ended up mandating the lethal vaccines and arresting parents who resisted bringing their children. 
CIA To UNICEF; Big Aid Has A Very Dirty Secret http://www.countercurrents.org/mountain120710.htm 
US Kills 168 Pakistan Children With Drones, WHO Kills 69 Times More Pakistani Children With Vaccines   http://exopolitics.blogs.com/ebolagate/2015/03/us-kills-168-pakistan-children-with-drones-who-kills-69-times-more-pakistani-children-using-vaccines.html
Birth defects and warnings not have have children.
Rockefeller and Gates are responsible for both. 

One might assume they put out the WHO alert urging all women in Brazil to not get pregnant since this is what they both have been  working tirelessly for everywhere - through vaccines, through food, through drugs, etc.
And they are the creators of GMO biotechnology and behind the GMO soy and glysophate that is causing tragedy in Brazil and Argentina, the heart of GMO soy production in the world.  
Engdahl
:
GMO, glyphosate and population reduction
GMO crops have never been proven safe for human or animal consumption. ....Tests show that tiny amounts of glyphosate compounds would do damage to a human umbilical, embryonic and placental cells in a pregnant woman drinking the ground water near a GMO field.13
Malformed newborns in Brazil are a heart-breaking human tragedy and a threat to human life itself.  To stop this, one must stop it at its source.
But the high numbers of malformed newborns in Brazil also present a catastrophic investment threat to "powerful economic interests behind the local agro-industry" which cannot allow the world to find out what is really responsible for what is happening in Brazil.  If the world realizes that GMOs and glysophate are responsible, GMOs are dead.

How does one prevent people from finding out the true source?


Throw them off the trail and pay them to go that way.
The announcement of Zika also instantly stops health departments and epidemiology departments from looking into what chemicals mothers may have been exposed to or what kind of food eat or what water source they live near.  The questions become did they have headaches when they were pregnant and did they get bitten by a mosquito during those 9 months.  Zika throws the stick in the wrong direction and sends the doctors and researchers off to fetch there.  It would not be surprising if the WHO or Gates or the Rockefeller Foudation announce funding to the hilt for research on Zika so whole universities and government agencies take off in the search, committed to helping, with pockets full of money. And if anyone tries to report otherwise?  Carrasco's car was beaten by a mob for 2 hours. 
The symptoms of Zika according the CDC (
which works with the CIA
which was involved with UNICEF in killing children with vaccines in Pakistan) are many, minor, and common, something anyone might get during a year:  fever, rash, joint pain, or conjunctivitis (red eyes), muscle pain and headaches.  Those neglible symptoms, though, are not only ideal for what might be a non-existent virus or one unrelated to birth defects, in being so non-specific, but they would terrify a pregnant woman that she's caught "Zika."  And when a doctor sees a deformed baby, and asks a woman if she ever had any of these symptoms, most will have had at least one. 
http://exopolitics.blogs.com/ebolagate/2014/08/cdc-and-cia-a-close-and-sick-relationship.html
And not only does a invisible virus distract from GMOs and glysophate already
known to cause these exact birth defects
, by pointing to a terrifying virus, the whole thing could be be turned into an opportunity for the Good Club. 
If an invisible virus is blamed for the deformed babies, the WHO can not only warn that women in Brazil should not get pregnant at all, but as the "virus" spreads (with what proof?), similar warnings can be put out everywhere.  The whole world could end up being warned not to have children. 
Zika could, in false flag terms, be seen as the patsy.  If people are distracted away from the real culprits - those behind GMO soy and glysophate - Zika becomes a savior of the biotech industry which is causing this nightmare for humanity.  Is "Zika!" already an inside joke in posh clubs where the Good Club and their buddies gather to laugh at what they are doing to get rid of humanity without it knowing?
But terror around Zika offers the Rockefellers and Gates something beyond saving their bacon financially or a bit of humor for tricking the world so easily - it offers them an excuse for vaccines.  They have been using terror for a long time to try to open a carte blanche vaccine door - rushed, untested, mandated vaccines.  Will Zika help?  It would be to save humanity, of course, by bringing healthy babies into the world.  They may very well have some vaccines already ready.

Is Zika even real?  Did they create it?  Does it even really matter if it terrifies the world into thinking it is?  Real or fictional, it can be used to distract from the true destroyers of babies, the monstrous GMO industry. 
And in terms of a virus, with the media providing the fear and the CDC and WHO announcing outbreaks anywhere they wish, they don't even need a real virus to announce an unknown, untested vaccine to save the world that may have no relation to "Zika" at all or with helping anyone.